intraMAX 2.0 - the Convenient Liquid Vitamin Mix
intraMAX 2.0 - the Convenient Liquid Vitamin Mix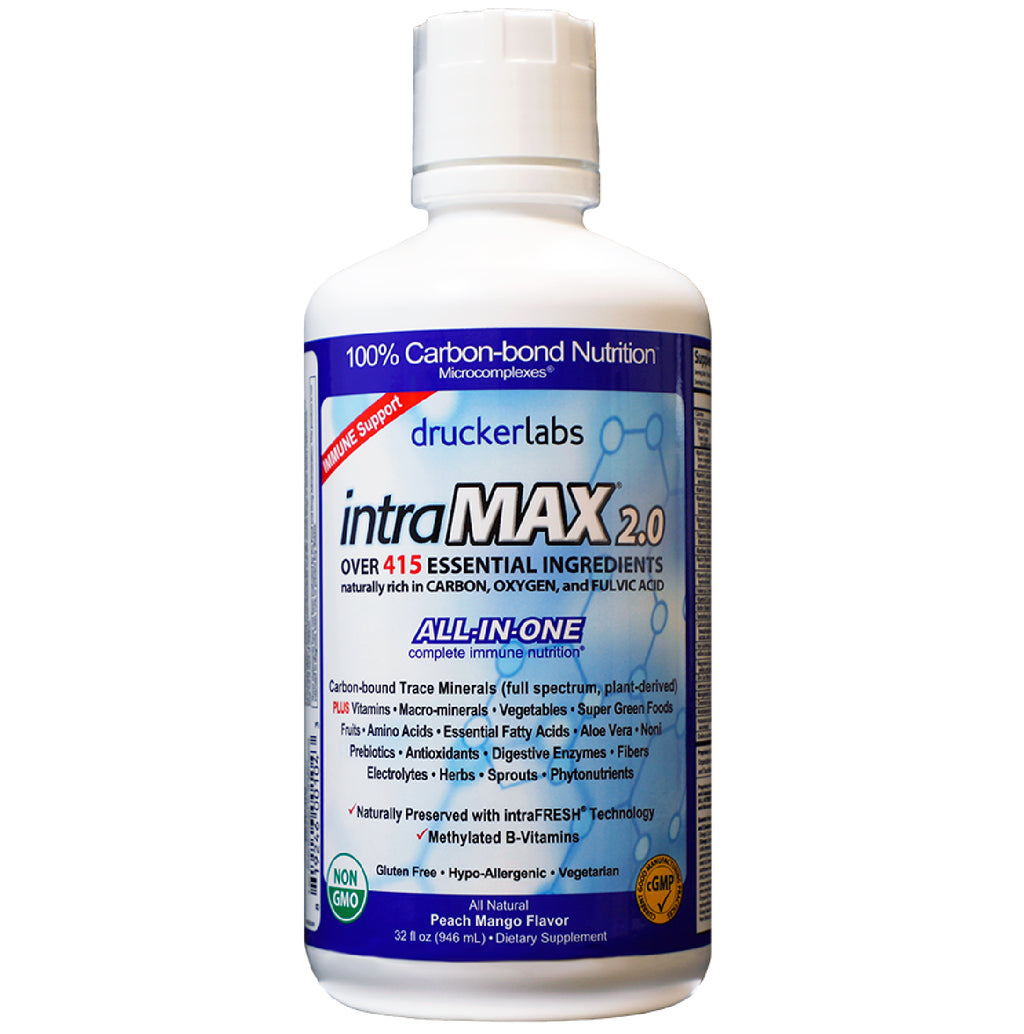 intraMAX 2.0 and intraMAX 2.0 travel size are produced using intraCELL Technology. This innovative cold-fill manufacturing process allows the 415+ ingredients in intraMAX 2.0 to retain their maximum nutritional value while being enriched organically with naturally-sourced fulvic acid.
In just a one-ounce daily serving, intraMAX 2.0 provides an array of vitamins, trace and macro minerals, prebiotics, antioxidants, digestive enzymes, fruits, vegetables, essential fatty acids, bioflavonoids, amino acids, and much more! The unique ingredient blends in intraMAX 2.0 not only support the body's ability to eliminate harmful substances*, they also provide support for a wide range of systems and functions which include:
Endocrine and hormone

Immune, development, and response

Blood, cellular, and circulatory

Cognitive, brain development, and neurological

Skin, bone, skeletal, muscle, and joint

Energy, strength, stamina, and stress management

- Recommended for ages 12 and over

Vegetarian

Non-GMO

Gluten-Free

Natural Peach Mango Flavor
Why intraMax?
A randomized, double-blind, placebo-controlled study found that intraMAX is effective and no adverse events were reported during the study. Details of the efficacy results supported by the clinical study's findings on intraMAX can be grouped into the following four areas: energy, cellular function, detoxification, and optimal wellness:
Energy: 
All subjects on the product reported more energy throughout the day

intraMAX promoted significant improvement in cellular respiration and enhanced energy levels 
Cellular Function: 
intraMAX helped achieve proper composition of body pH which improves the level of acidity in the body to promote better overall functioning 

Subjects were able to achieve proper activation and assimilation of vitamins, minerals, amino acids, enzymes, and glycogens 

intraMAX augmented the hydration level which is essential for normal bodily function 
Detoxification: 
intraMAX assisted with proper detoxification of intercellular metabolic wastes, and, therefore, led to reduced levels of toxicity in the body 

intraMAX helped to maintain or improve the body's cellular functions 
Optimal Wellness: 
intraMAX helped with optimal digestion (especially carbohydrate digestion) which is essential to wellness • intraMAX augmented the hydration level which can be effective in improving kidney health 

intraMAX helped to neutralize "free radical" damage 
Based on these clinical comparisons and the complete lack of known adverse side effects, interaction, or contra-indications from the ingredients in the product, intraMAX was shown to be a safe and highly effective means of improving one's nutrition while helping to maintain or improve cellular system functions.
Why Drucker Labs should be trusted
Dr. Richard Drucker, a highly respected doctor in the field of natural health, developed intraLINE products using intraCELL Technology. This innovative cold-fill manufacturing process allows ingredients to be enriched organically with naturally-sourced fulvic acid and for the ingredients to retain their maximum nutritional value.
All IntraLINE products are:
Complete and made from high-quality ingredients

Highly bioavailable, providing fast and efficient absorption

Great-tasting, resulting in increased patient compliance

Convenient in one-ounce daily doses and easy-to-take liquid formulas

Hypoallergenic, ideal for those with sensitivities†
†intraLINE products are all free of: Wheat, Gluten, Yeast, Dairy, Soy, Nuts, Shellfish. Also free of: Antibiotics (drugs), Caffeine, Cholesterol, Coatings, Dyes, Egg, Fat, Fillers, Fish, Fish Oil, Harsh Chemicals, Herbicides, Milk, Peanuts, Pesticides, Salicylates, Soybeans.
The advantages of liquid vitamin mixtures
You avoid the risk that an improperly made tablet or caplet will not break apart and fully release its ingredients for absorption. (ConsumerLab.com)
No issue with swallowing difficult pills or capsules
Liquids are more rapidly absorbed, particularly for those that have stomach or gut absorption issues
Makes it much easier to modify the dose
Some pills attract water and fall apart- liquids avoid that.
What people are saying about intraMAX 
"Integral to my success, I took intraMAX daily as part of my training regimen for my Level-Two Strong First Kettleball Instructors Certification. I passed! At 70-years-old, I depend on intraMAX as a healthy nutritional supplement and for that extra energy I need to stay in top form." - Dr. John Sullivan, Doctor of Chiropractic
"I have both elderly and young patients who can't swallow pills, so intraMAX is ideal for them. It's the most complete nutritional supplement I've been able to find on the market and I'm extremely impressed with its bioavailability. I take it myself!" - Dr. Janet Rogers, Doctor of Chiropractic
"I looked everywhere for a nutritional supplement that would meet my high standards, and with intraMAX, I found it. I've shared my enthusiasm with my patients and offered samples to demonstrate how good it tastes. I have quite a following now!" - Dr. Susan Jensen, Medical Doctor
"I have been running marathons for 8 years now. Once I started taking intraMAX, my training times improved significantly. The last marathon I ran, I improved my time by 36 minutes! I wonder how fast my next marathon will be!" - A. Placencia, intraMax Customer
"I consider intraMAX the quintessential liquid nutritional supplement. Besides being great tasting, it gives each of my patients a balanced energized feeling of well being. I am very impressed with the quality and the incredible research that has gone into this product. I use this myself and will keep doing so. Dr. Drucker has produced a winner!" - Dr. Jerry Schwartz, Naturopathic Doctor
"Proven Over Time!
I've been taking IntraMAX for more than 10 years now. I simply cannot start the day without it! I'm in excellent health and my bloodwork proves it." Patti Reiland, Progressive Nutracare customer
"My son has Crohn's. If he doesn't take it he notices a huge difference in how he feels. Don't like to be without it." Lynette Reese, Progressive Nutracare customer
*By including product links in this article, Progressive Nutracare is providing a reference to our readers to assist in searching and cataloging the site. These products have not been evaluated by the F.D.A. are not intended to treat, diagnose, cure, or prevent disease.